I LIKE Adelaide. I am not enjoying Melbourne much. But I quite like Adelaide. Melbourne has become glitzy, bossy, over-crowded and poorly planned. A recent report says about 100,000 people a year are coming to settle in Victoria. It's like the Dr Seuss 'Lorax'- "I'm figurin' on gettin' bigger and bigger." Adelaide has never really been like that. Well, it probably will be. It's always been about 20 or so years 'behind' Melbourne- except it's kind of like 'in front' in this case. In Melbourne, streets like Hoddle Street and Punt Road have never been very good streets. They are abominable now. Besides being ugly with indiscriminate planning, the streets are full of cars with psychotic drivers and suburbs that in the 1960's would have taken minutes to encompass- say, Preston to Richmond in about fifteen minutes. Now the same trip along the same streets at a comparative time, you are looking at about forty five minutes plus. Adelaide still isn't like this. I was in Adelaide these last few days. I had some lovely experiences with the girls like the young boy in Wordsworth's 'Prelude'- these so called 'spots of time passages.' I had a very optimistic attitude in Adelaide. Maybe that's partly why it was so good. But it was just nice to escape Melbourne for a few days. And I guess, ordinary life. A great antidote to the woes of ordinary life is to do something different.
So I hopped on a metro train- something I've never done before, even though I've been to Adelaide many times. Adelaide is kind of like an old friend. It's easy to get around, it's familiar and unpretentious and pleasant. I feel like I belong there, and that I could live there, even though I did try when I was 22, and it was a complete disaster. I couldn't find a job, I was living in Kurralta Park of all places, and the circumstances, particularly the relationship, was all wrong. It was all my fault, though. Anyway, here I was getting on a train on the 'Outer Harbour' line. It took ages for the train to leave, and even then I was switched to another line at the last minute and could have missed it.
The line out to the places I was going was interesting. The 'Outer Harbour' line takes you past 'Port Adelaide' and 'Alberton', and a little further in the region of 'Semaphore.' It was the film 'Look Both Ways' that was on my mind. I wanted to see the locations that were used in the film.
In the film we see shots of Justine Clarke looking bored on the train and travelling past vast industrial wastelands. These vast industrial wastelands look worse in real life. The view along the whole of the 'Outer Harbor' line was depressing. It made me think that Adelaide is lovely and soft in the centre, but brittle and ugly on the outskirts- at least in the west, at any rate. I found some of the locations used for the film, and found this really interesting. I want to do the same for the film 'The Year My Voice Broke', filmed apparently in Braidwood, New South Wales. I wandered along Semaphore Road, Semaphore, just like William McInnes, and was surprised at how close the water and the jetty was to the main road. Semaphore Road is quite lovely- the sea end of it at least- but Port Adelaide Station, and all the other stations on this line, and the houses and empty spaces and factories and graffiti, were all ugly and dispiriting.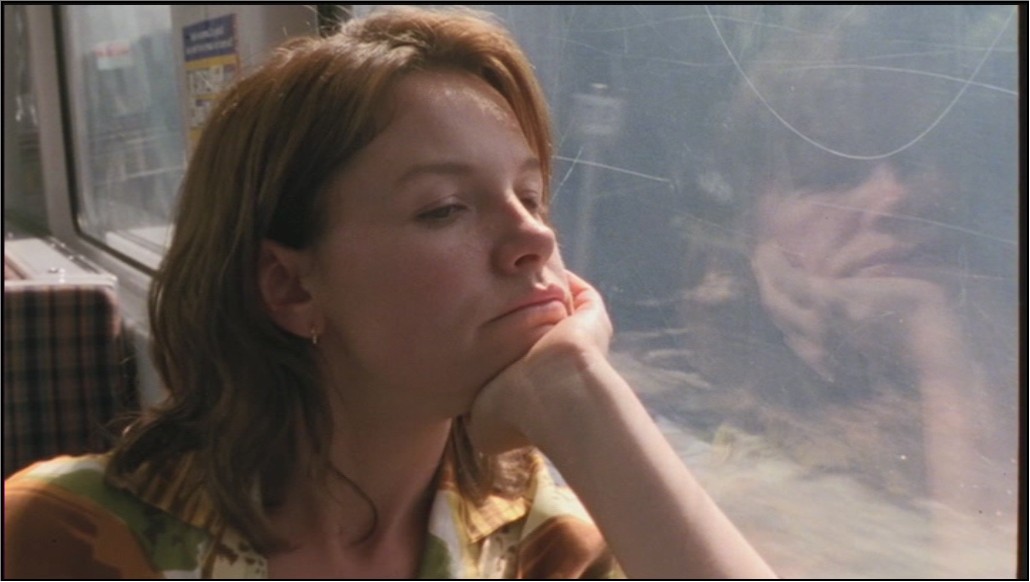 I took S and A to the Adelaide Zoo the next day. The zoo is much nicer than the Melbourne Zoo. It seems more compact and better designed, and more lovingly constructed in a way. A black cockatoo nibbled A's finger, and a goat and a charming deer chewed our shirt sleeves.
The pandas and koalas were comatose in their expansive exhibits, and the emu was angry, the pretty pink flamingo seemed to be dancing as it rotated its extraordinarily thin legs as it nuzzled its own feathers, and the zoo was quiet and understated and it was so peaceful and easy and there was nothing ostentatious or grand and in fact the whole area around the zoo is a pretty green and there are no high risers and the walk down to the zoo from North Terrace is fresh and lovely and cool and uncomplicated and free.
We stayed on Pulteney Street, sandwiched between North Terrace and Rundle Mall. Those silly silver balls sitting on top of each other are still on Rundle Mall. The charming statues are still on North Terrace and haven't been dwarfed by some modern ugly sculptures. Michael Treloar's antiquarian bookshop is still going, but only just, and the food shops on Rundle Mall are still a bit tacky and cheap. The murals on the walls appear to be the same and people still walk diagonally across some of the streets and always wait for the lights. The same stuffed animals are in the museum in exactly the same pose as they were years ago. You haven't changed much since then, but your child has become a bit older.

It's so charming in a way. Adelaide people rarely jaywalk, and always wait for the walking green. This doesn't happen in bad brash Melbourne much.
I felt a cold wind, a note of warning, however. It seemed like Adelaide was still determined to 'catch up.' There was a lot of noise going on. Saws and drills, and unsightly cranes. Some weird thing was going on around the Rundle Mall/ King William Street intersection. The lovely 'Beehive Corner' was half hidden. 'Haigh's chocolates' was still there, but tragically obscured, and there were those annoying wind tunnels going on everywhere to protect people from falling hammers and what not on construction sites. Don't get me started on the Festival Centre area. The Torrens River was barely visible due to the vast construction site in place. So much for 'boats for hire.'