GERALD Hughes has just written a moving account of what it was like growing up with his famous little brother, TED in a just published memoir entitled 'Ted And I' (The Robson Press).
Of course it helps that the subject is famous, and that it is Ted Hughes- nevertheless the loving detail is enjoyable to read as a general account of the closeness two siblings have for each other, and the aching distance both must have felt living so far apart over a long period of time.
Gerald was born first, in 1920, in Hebden Bridge, Yorkshire, to Billy Hughes and Edith Farrar. Ted was born some nine years and eleven months later in Mytholmroyd, close by. There was a sister, Olwyn, born between them, two years later, of enormous usefulness to Ted after Sylvia Plath's suicide when he suddenly found himself the sole parent of two young kids.
Gerald was in every way the big brother who would cast an enormous, positive influence. Much of this account is of the two of them exploring the country fields near their home, shooting and fishing in particular, sowing the seeds of inspiration for a large number of Ted Hughes' greatest poems. Part of the enchanting nature of the book is that it is such a life affirming story. This is an account of the extraordinary closeness of there children and the two parents they desperately love.
The first big outdoor adventure for the two precocious boys took place in the form of a camping trip when Ted was only four and a half years old. It was aborted early at the insistence of their parents, yet Ted would never forget his experience of seeing the kind of wildlife that would later intrude in his stories and poems. This was the beginning of many outdoor adventures, as Gerald lovingly handed down information about rabbits and pigeons, hawks and owls, stoats and grouse. The boys were also fascinated by model boats, and later a model steam engine.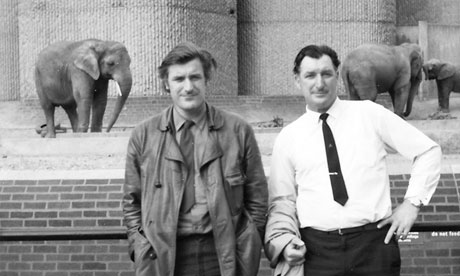 When Ted was eight the whole family moved to Mexborough, another town in Yorkshire, and a much bigger location. Soon Gerald would begin travelling around the UK finding various jobs, whilst Ted would spend more time with his sister, Olwyn. When WW2 began Gerald was absent from his family for a number of years after joining the air force. Ted was fifteen when Gerald returned. Gerald says, in his account, that Ted opened the door 'with tears streaming down his face', saying "Mam, it's him, it's him!"
Work took Gerald to other faraway places, and eventually he accepted the temptation of a life in Australia, in 1948. Gerald enrolled in art classes and took up residence after he met his new wife in Essendon, just minutes from where I am writing this entry. For the rest of Ted Hughes' life (he died in 1999), distance would always be an issue. Ted himself thought seriously of joining Gerald in Australia around 1956, however this was the year he met Sylvia Plath in Cambridge, and that changed everything. He was never keen anyway, with cultural places like Italy and France on his doorstep in England. Gerald never really entertained the idea of going back home to live. He was encouraged time and time again by Ted- implored, I have little doubt- but Gerald had started a new life in Melbourne, the potential return complicated further with the advent of a growing family.
Nevertheless return visits must have been amazing. The first occurred in 1951 when Gerald brought his wife, Joan, home to meet the family at Christmas. The visit stretched to ten months, some of it spent with Ted at his lodgings at Pembroke College, Cambridge. Gerald and his wife never met Sylvia Plath whom Ted married in 1956, but plenty of warm letters were exchanged.
It wasn't until a year after Plath's death, in 1964, that Gerald was able to return to Yorkshire, then to stay with Ted in Devon. He was a great support for his very fragile brother who nevertheless had a new partner, a relationship that started before the marriage with Plath collapsed. The visit after this was at the end of 1968. Again, there was a lot of touring involved, including a visit to London and Stonehenge.
Greater heartbreak for Ted Hughes followed with the suicide of Assia Wevill, and his young daughter with Wevill, as a part of a tragic double act. The Hughes' beloved mother also died around this time. Unsurprisingly there is a letter dated from 1970 containing the words: "..I have found the most staggering property…cliff and rocky beach…How about coming in on it?" This is a moving part of the account. There is something sad and beautiful about two close brothers who cannot be together, but who long for each other's company built on an intuitive friendship. In another letter Ted writes, "The final realisation that you will never come and live over here was probably what knocked me out- it was a big station in my life's journey to realise the emptiness of that dream."
Finally Ted Hughes made the trip to Australia in early 1976, as part of an arts festival. The brothers spent some time in Essendon, and at Gerald's beach house on the Mornington Peninsula. Ted received his first taste of Australian wildlife and was fascinated. Gerald's return visit was made in 1978- a 'memorable visit', and then again in 1990, by which time Ted had been made Poet Laureate. Back home again, after this visit, Ted wrote that their 'were too many distractions' this time and that the evenings were 'not long enough.'
Ted was diagnosed with cancer in 1997. He was presented with the Order of Merit by the Queen in 1998. On the phone Gerald spoke of how proud he was of him, and of his recently published 'Birthday Letters.' Ted died a week later. Gerald's last trip to England was to attend his brother's memorial service at Westminster Abbey.
The book concludes with notes regarding the Yorkshire settings for some of Ted Hughes' most famous works. A lovely book. Not overly sentimental, but very loving and in some ways cathartic. Gerald Hughes is now 93 years old, and not living too far from here. I would love to meet him. I would feel, I am guessing, the powerful connections with Ted Hughes and Sylvia Plath. And who knows? Perhaps he would share some manuscripts. But I have a feeling that at 93, I'd better be quick.